I thought it best to start a new thread for this seeing as Im changing Glasgow into Newcastle. Anyone who wants to be reminded of the work Nick did on Glasgow can use this link
http://rnwarships.informe.com/forum/destroyers-corvettes-f22/h-m-s-glasgow-1-72-scale-build-t100.html
Going forward, I intend to put any further updates in this thread.
While I was reviewing the hull so far, I'd previously mentioned I'd try and take off an '8' off the stern pennant ident and replace this with a '7' to show that for Newcastle (D87). However, although Jecobin's plans show the stern pennant ident for the 42's, these are according to pictures I have, in the wrong place and far too big. So, it looks like I'll need to order some smaller RN pennant idents
The stern pennant ident will be repositioned higher up just below the two stern lights as in this picture.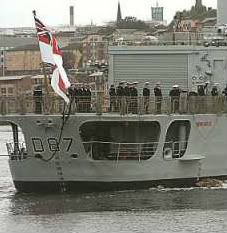 Righto, off to see if I can do anything about the stabilisers and \ or bilge keel fitting!